Vision
Our children come from dire circumstances and in all age groups. The starting line for each child is different. Before coming to us, they've most likely helped their parents at construction sites, shops, farms or begged on railway platforms or traffic signals. They've the advantage of being street smart with a good understanding of practical hands-on work. Instead of trying to change their natural instincts, our goal is to play to their strengths; explain concepts of science, maths and social studies by working on projects and real life examples instead of unidirectional classroom teaching. The outcome we hope is for them to be critical thinking problem solvers who have the skills to translate thought to action naturally.
Student Council
Child-centric learning is a philosophy not limited just to the classrooms but to every aspect of life. From the time we've moved to the hostel campus in 2019, we've formally instituted the Student Council. The student council has elected student leaders who manage every aspect of the functioning of the hostel. We've divided the work into different committees like – garden, kitchen, housekeeping, cleanliness. All the children, irrespective of age have assigned responsibilities and are assessed on their performance on a daily basis by being issued stars and dots. The stars and dots are tallied at the end of each month and the winning house wins a reward.
Informal School on Campus
Covid-19 forced us to take a deep look at our formal education process. Historically we've partnered with Navprerna for our children's formal schooling. While it worked well pre-covid, our children had no schooling for more than 2 years. We had no option but to start academic classes on campus. In the span of the last 2 years, while monitoring the teaching and learning process closely, we observed that the conventional blackboard-textbook teaching is quite inefficient for our children. Hands-on project based learning works exponentially better. As a result, we made a decision in 2021 to build classrooms on campus that would take a hybrid approach to education.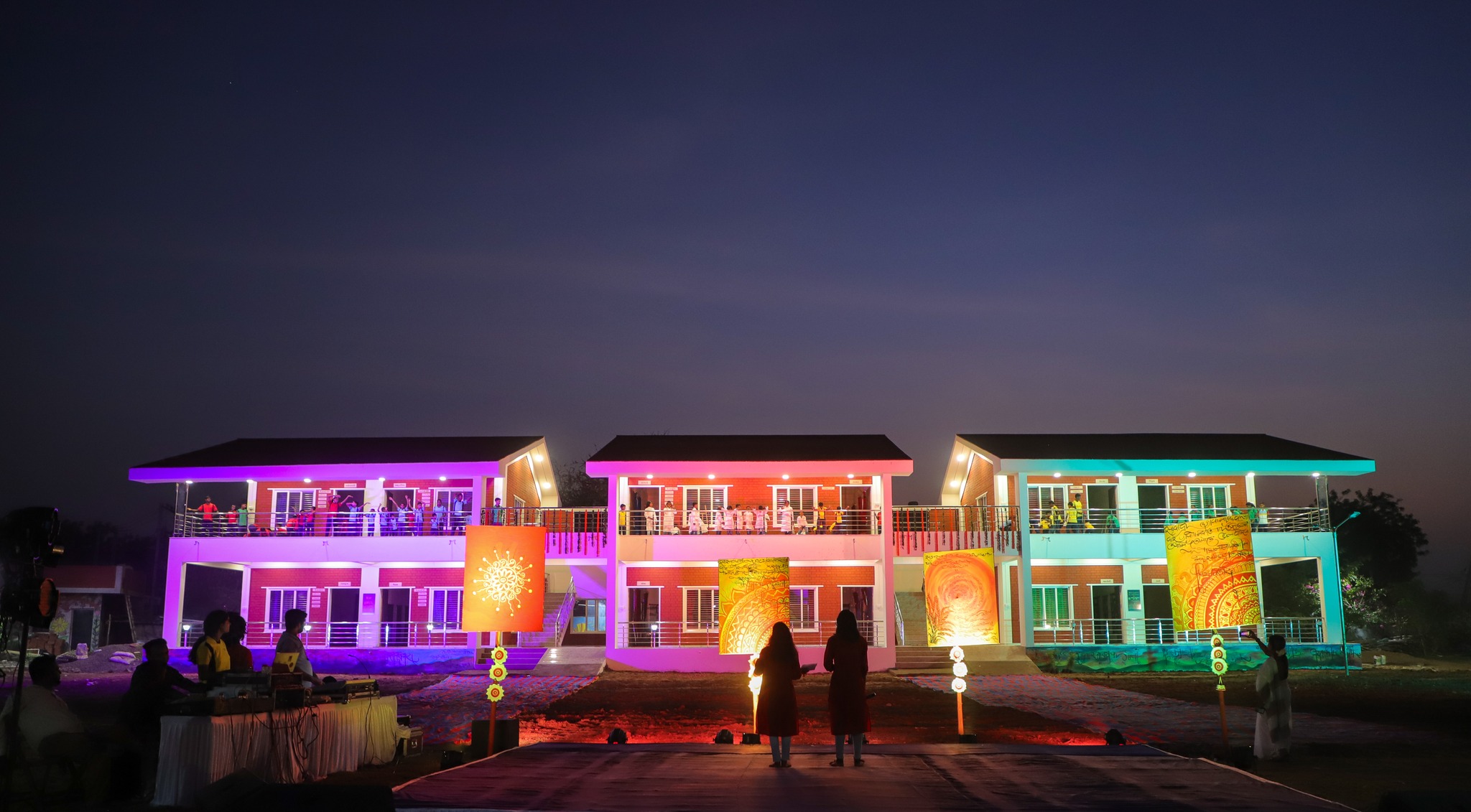 Trial phase of Project Based Learning
In mid-2021, we implemented PBL at our elementary and middle school levels under the expertise of Ms. Paras Mahendru who helped design the program and also train our teachers. PBL is a student-centered pedagogy that involves active exploration of real-world challenges and problems. We started with a project on Animals with our elementary level children followed by a project on harvesting called Fasal for all our elementary and middle school children and the third project was on Climate Change & Pollution.
Early Success
The Pathshala team participated in an inter-school (13 schools) model making competition on Sustainability and won the first prize. The depth of knowledge they exhibited was far deeper and broader than the other children due to the hands-on approach they followed while exploring the topic during project Fasal. Our children were also invited to a science exhibition at New Era Higher Secondary school and were appreciated for having the best model there. Overall, the enthusiasm for learning among all our children was quite evident and as an example, they went deep into the topics to explore farming laws, farming suicide, carbon footprint, actionable steps to reduce it etc in the different projects.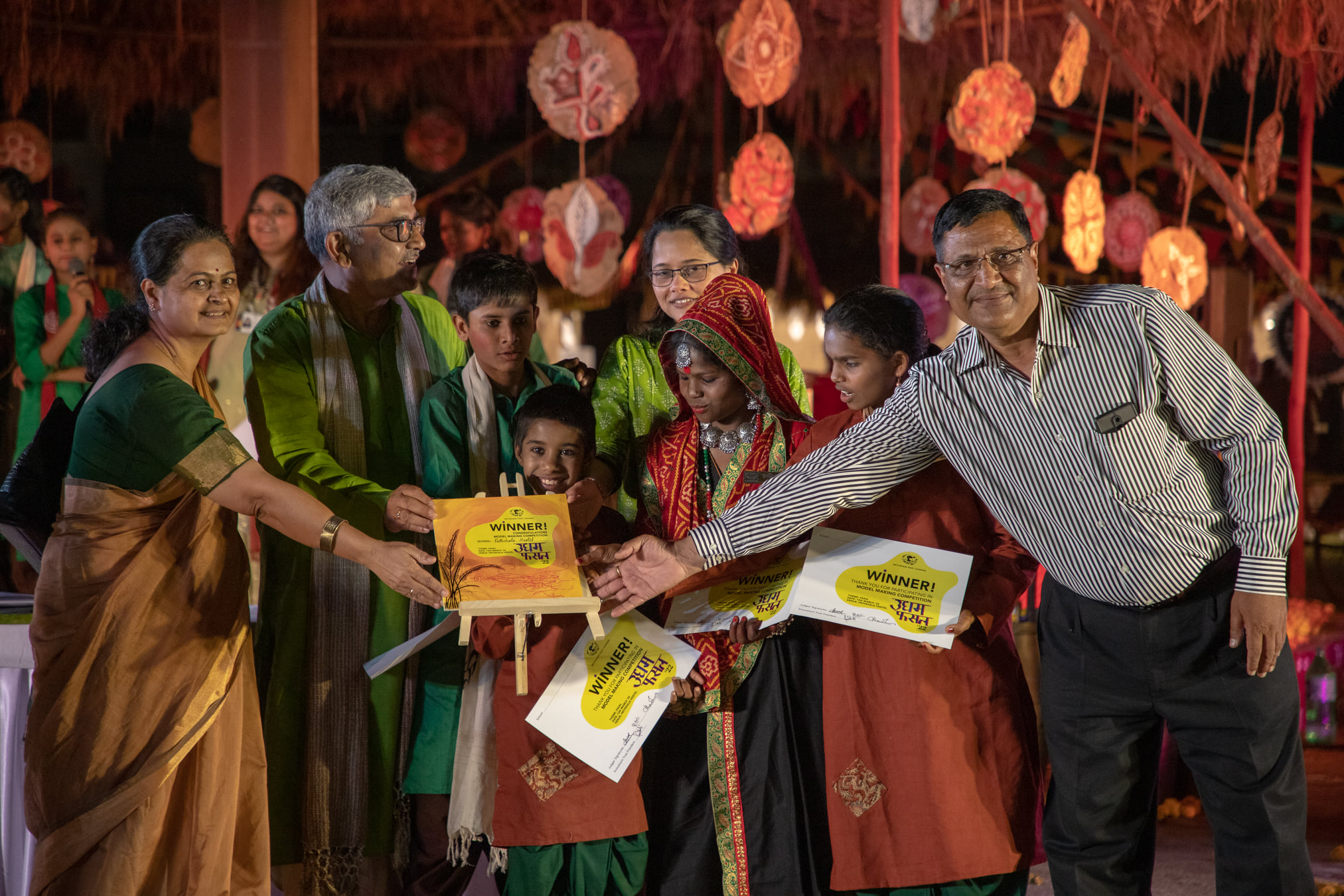 So far our children have worked on 3 projects –
Animals
Project Fasal (Harvest)
Climate Change & Pollution
Our projects have multiple phases –
Identifying a topic or a problem area
Understanding our children's hold of the topic by asking them to write, make models, draw etc.
The teachers facilitate discussions to identify the areas to explore within the topic. There are groups formed within a level to explore different aspects of a topic.
The children then do research, go on site visits, watch videos on the topic, make notes and create presentations
They work on a working prototype that offer solutions to the problem area identified. The culmination of the project is an exhibition and presentation of all of their work.
During project Fasal, the children were involved in planting and harvesting vegetables and grains, wrote a script & performed a street play, went on site visits and covered many topics under farming like festivals, food, farming tools, sustainable working models on drip irrigation, rain water harvesting, biogas, farming laws, farmer's suicide etc.
For Climate Change and Pollution, they followed a similar process as above and created huge sculptures using metal scrap, tires, plastic etc. as one of their project outcomes.
Curriculum (Levels 1-5)
Hybrid approach to learning
Going forward, we are trying to marry Project Based Learning with conventional education such that the children are able to learn their fundamentals, till grade 7 through hands-on projects that address real-world problems through various mediums of expression like essays, model making, dance, music, theater, art etc; the format that best suits a child and the topic on hand.
Levels of learning
Practically we will execute this program by implementing 5 levels of learning. We will eliminate the concept of grades till grade 7. Each learning level is designed keeping the state board education level expectations for grade 7 in mind. Projects will be chosen so that all relevant topics are covered by the time they reach level 5 in much greater detail.
Science & Social Studies: will purely follow the PBL Approach
Language & Maths: While it is impractical to be able to teach Language & Maths entirely through projects, it will be a hybrid approach of following state board textbooks but involving writing and reading comprehension as part of our projects research & presentations. Technical aspects of languages like grammar will require some direct textbook references. Similarly Maths will use the textbook as reference but will follow real-world activities and examples where possible , e.g. profit/loss, geometry by using objects around us, problem sums etc.
Curriculum (Grade 8 & Beyond)
How does level based promotion work?
What is important to understand is, not all children will be at the same level in different subjects. As an example, a child can be at level 1 in Science and level 3 in Gujarati. The ultimate goal is for the child to make progress such that they can get to the level 5 stage in all subjects. If needed, remedial teaching will be used to supplement regular classes for the child to make quick progress through certain levels. Assessments will be based on the learning level outcomes defined for each level and promotion is not based on annual exams. Promotion across levels will depend on progress an individual child makes and can happen multiple times in a year.
Grade 8 & Beyond
The expectation is by the time the children finish all 5 levels of learning, their fundamentals will be strong enough to be able to transition to the conventional education system. While we truly believe in the benefits of PBL, our ultimate goal is for our children to succeed professionally. For that, we will need our children to take the Class 10 and Class 12 exams to qualify for the different professional courses. Therefore, starting in class 8, they will follow the OBE (Open Basic Education of the National Institute of Open Schooling board) level 3 textbooks. As part of NIOS' OBE program, they can select 5 subjects that allows upto 2 vocational training courses. We'll help our children select their subjects based on their career counseling sessions held under our UDAAN initiative that includes psychometric testing & individual interests and skills. They will take the Class 10 and Class 12 exams under the NIOS board.
Success story: Our eldest child Ajay is enrolled in KJIT's Mechanical engineering Diploma course while preparing to take NIOS' Class 12 exams. His dream is to become a Loco Pilot (Railways). His subjects and learning journey is being designed to help him achieve his goal.